Table of contens
We Are Social's Digital 2020: Vietnam report records significant changes, revealing the strong growth of e-commerce, the popularity of smart devices, and especially the rise in awareness of internet users about data, privacy, and social channels.
Table of Contents
Global Overview
As of July 2020, the world population reached 7.79 billion people (an increase of 400 million people compared to Jan 2020), and more than 4.57 billion people have Internet access (59%), 5.19 billion mobile phone subscribers (67%). The number of people using social networks is 3.96 billion (51%), increasing 160 million people (2%) since January 2020. This means, now more than half of the world's population is using social networks, and it is estimated that there are more than 12 new social network users globally every second go by. This strong growth is that during the pandemic, Internet users need to access news and spend more time entertainment on social networks.
The penetration rate on the Internet and social networks in Southeast Asia is higher than the world, with the penetration rate being 66% (Internet) and 63% (Social Networks), and 81% of Social Media users aged over 13 years old are second only to Central America (86%) and North America (82%).
Vietnam Overview
According to the report, the digital picture in Vietnam is even more active than the average of Southeast Asians. In a total population of 96.9 million people, there are 68 million Internet users (equivalent to a penetration rate of 70%); there are more than 145 million mobile subscribers (meaning, on average, every Vietnamese person uses 1.5 phone numbers). The number of active social media accounts in Vietnam is 65 million, equivalent to a penetration rate of 67%. Although it is still behind some other Southeast Asian countries, it is still much higher than the regional and world averages.
In the group of 16 to 64 years old people surveyed, along with smartphones, 65% own a laptop, 32% have at least one tablet. And the most noticeable thing in this slide is that 9.6% of people surveyed own devices for watching TV and streaming on the Internet (e.g. smart TV, Android TV), 13% own smart homes, and 18% own wearable devices.
These figures prove that Internet access has become more popular, more accessible, and more diverse for Vietnamese people. Phones and computers still make up the majority, but more personal devices have appeared, such as smart TVs, smart homes, wearable devices, games, and even virtual reality. That's why we should invest more in the content and the corresponding channel to reach valuable consumers.
Internet Use
Compared with Southeast Asia and the world, the behavior of Vietnamese people on the Internet is noticeable and has a lot of potentials. With 6 hours and 30 minutes of Internet access per day, users spent ⅓ of their time using social networks, watching TV entertainment also accounted for 1/3 spending time. This shows the explosion of video entertainment content on social networks such as YouTube, TikTok, etc. Note: TVs here include both traditional and modern TV formats and online videos.
When looking at the data, we see that Vietnamese people spend a lot of time on three primary content groups: Entertainment, Watching the news, and Buying online. The explosion of the promotion of e-commerce channels promises it to become the trend soon. In addition to these basic behaviors, we can see two factors that must take care of: personal privacy and new technology.
Regarding personal privacy, it is noteworthy that 34% of people surveyed set time on usage to limit and control their or their family's internet using time and behavior; 60% have data privacy awareness; 43% have installed tools such as ad blocker (adblocker) and 56% have used an incognito browser or know how to delete cookies from the computer browser.
The increase in the number of people installing ad blockers in the past two years is also proof that marketers need to invest in advertising content rather than following simple trends or promotion content.
In particular, businesses must not be subjective when using customer data for other purposes. Because through the Facebook Privacy Crisis, users are now very conscious of managing personal data. Therefore, marketers need to be more careful and transparent in asking for permission to access and collect data, and it will become increasingly difficult to track down the consumer's journey.
About new technology, according to We Are Social, among people surveyed aged 16-64, up to 41% have ever used voice command, 60% have subscribed to watch paid content, such as Netflix or Spotify. The numbers reflect a positive trend in users accepting to pay for premium content in Vietnam. There are also exciting figures that 13% own smart homes, and 7.5% know or own virtual currency.
Social Media Use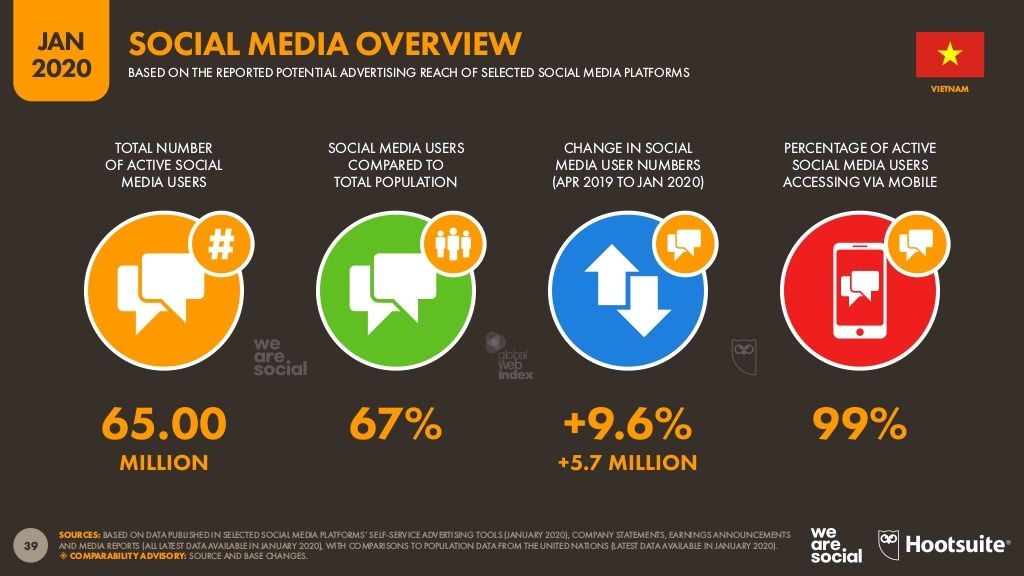 Starting from slide 39 is an overview of user behavior on social networks. There are 65 million active social media of the total 96 million people, equivalent to a penetration rate of 67%, and they spend 2 hours and 22 minutes a day on social media.
According to the report, on average, each Vietnamese person has about 9 social networking accounts (Facebook, Instagram, Zalo, Skype, YouTube, etc.). On a monthly average, a Vietnamese social media account will like 1 page, 9 posts, comment 8 times, share 2 posts and click on ads 17 times. And women always have a higher interaction rate than men.
The most popular social networking channels today are Facebook, YouTube, WhatsApp, Messenger, Wechat, Instagram, TikTok. Zalo is in the top 5 most visited social networks in Vietnam, standing with Messenger, behind Facebook and YouTube with Instagram, TikTok, Twitter, Skype, and Viber.
It can affirm that Facebook is still the most popular social platform in Vietnam, so marketers regularly choose it for their marketing campaigns. Digging into Facebook data, you can read many specific metrics from Facebook Ads, such as there are 61 million accounts reachable by Facebook Ads, equivalent to 79% of the population over the age of 13, which means that we can reach more than 80% of the target audience over 13 years old in Vietnam. In addition to Facebook, Instagram and TikTok are experiencing very significant growth. It can see that Internet users tend to differentiate the use of separate social networks rather than just using Facebook like five years ago.
Mobile Activities
The most used apps by Vietnamese people in 2019 include more than 93% of social networking apps to chat, share and connect; 85% to watch movies, 60% to listen to music, 58% to play games, 55% to shop, and finally to banking apps 36%. However, it is not clear whether the rate is the majority from traditional bank apps or digital banking apps, e-wallets (Timo, MoMo, ViettelPay, Zalo Pay, etc.). And final ranking apps on this slide are health apps at 20% and dating at 9%.
From slides 56 to 60, you can easily find the names of specific apps sorted by the number of downloads, active users, time spent using the app, the amount spent in the app, etc. Android continues to lead with 61% of traffic from mobile devices, and iOS is behind with 37%.
In addition, the report also records data on many other user behaviors on mobile; 37% know how to use the phone to project content on the TV. The recognition and use of QR codes by up to 37% will also help the widespread use of e-wallet applications for payment. Marketers also need to quickly apply QR codes to create more accessible connections with customers.
Besides that, 15% of people surveyed use their phones to buy or book tickets (travel, movies, music, etc.). The number of people making money transfers via mobile accounts for 46% (e-wallets, iBanking app, etc.).
E-Commerce
Firstly, a noteworthy number is that 30% of the Vietnamese population over 15 years old has at least one bank account, including 4.1% of people who own a credit card, 3.5% have an e-wallet, and 21% of people surveyed have ever paid a bill or made an online purchase.
The report shows that 84% of users search for product information online regarding special online purchase behavior. It can say that mobile phones and e-wallets are two factors driving the growth of e-commerce in Vietnam. The number of shoppers on mobile makes up the majority, with a ratio of 59%; that's why marketers need to pay attention to the customer experience when they use mobile phones to access their website or store on the e-commerce platform. It is necessary to ensure that the customer experience (images, content, videos) is optimized for mobile devices as it helps to increase sales opportunities.
The report also shows that, during the pandemic, up to 75% of users aged 16-24 in Vietnam have purchased at least one product on e-commerce by using any device.
Above is the list of popular categories with high purchase value on e-commerce, including fashion & beauty, electronics & physical media, food & personal care, furniture & appliances, toys, DIY & hobbies, travel, digital music, and video games.
The following slide in the Digital report shows us the e-commerce payment methods and the channels users search for when shopping. Besides that, slide 68 talks about popular payment gateways on e-commerce in Vietnam in 2019, credit cards account for 37%, cash accounts for 17%, banking transactions account for 30%, e-wallets account for 37%. 11%, etc.
The final of this report is about channels where users can discover new brands. Using Search Engines is still the primary method. This means that if you do an excellent job of bringing information to the top of the search pages when users have a need and search, it will lead to the top result of your brand's website. Otherwise, most of the top search results will belong to your opponent.
The second method to building brand awareness is television, which includes TV commercials, game shows, brand-sponsored movies, or other forms of product placement. Ranked 4th in channels of new brand discovery is the Review channel of customers, including customer websites. Review platforms like Foody, Tripadvisor greatly influence users' online purchase decisions or the reviews in the comments section of the website on Tiki, Lazada. Finally, other channels include Brand Website, WOM, banner, social media advertising.
The value of Digital Advertising
According to this report, the total estimated spending of Vietnamese digital advertising is 306 million USD, an average growth rate of 9.2% over the same period in 2018.
The data show that search ads accounted for 118 million USD, up 9.2%; social networks accounted for 50 million USD, with 17% rapid growth compared to 2018. The next spend is display advertising with 54 million USD, up 12%. Video ads accounted for $31 million, up 7.7%, and $54 million for other forms had a 1.3% growth.
In conclusion
Through the Digital 2020 Vietnam report, Facebook is still the leading social platform that has the most effect on Vietnamese users. Besides Facebook and Instagram, Zalo - the Vietnamese social network and TikTok platform will be two challengers of Facebook where marketers should spend more of their time building brands and selling activities. Especially in the future, e-commerce will create more breakthroughs thanks to e-wallets and mobile phones.
Please contact us if you need more helpful information about Digital Vietnam 2019. We will update the latest information in the following articles. See detailed Digital 2020: Vietnam at the link below.