Table of contens
Digital Report 2018, released by WeareSocial and HootSuite, brings a lot of exciting and valuable information. The reports can be divided into three main sections, internet users, mobile users, and social network users in Vietnam. Besides, other data about e-commerce and financial issues also help businesses, marketers, and investors in Vietnam have an overview of the 2018 digital market.
Table of Contents
Global overview
The world population in 2018 reached 7,593 billion people. More than half of the world's population joined the internet. Active social media users increased slightly by 13% compared to 2017 accounting for 42% of the total population, along with the rise of mobile devices.
Vietnam Overview
In 2018, Vietnam's population reached 96.02 million, with an urban population rate of 35%. In the total population of 96.02 million people, there are 64 million internet users (equivalent to a penetration rate of 67%). At the same time, the number of active social media users increased significantly, with a 20% difference from 2017, along with a slight increase in mobile devices.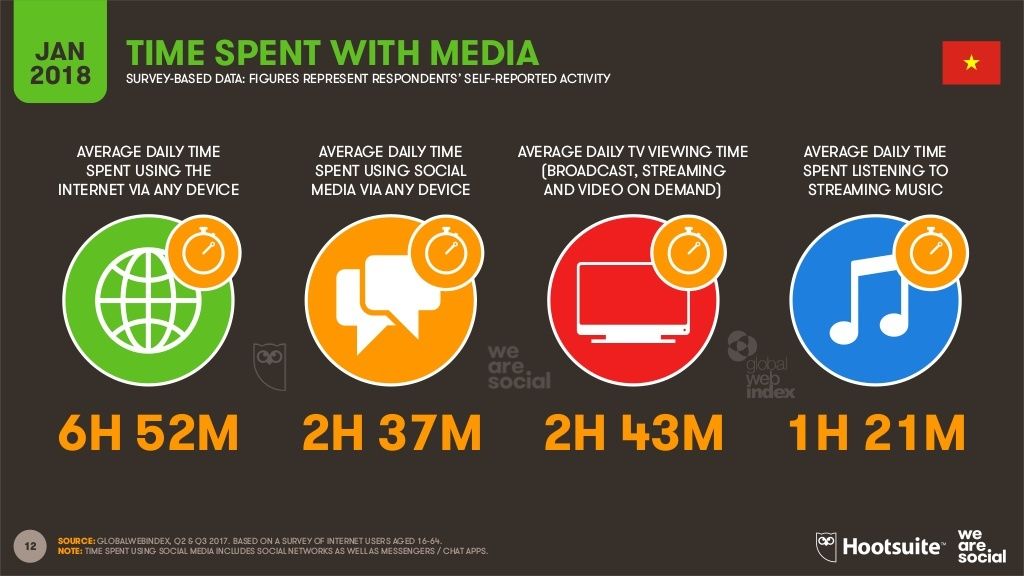 On average, each Vietnamese spends nearly 7 hours a day using the internet. Vietnamese internet users surveyed spend more than 2 hours 37 minutes for social media, 2 hours 43 minutes a day for watching television, and more than 1 hour for listening to music. Most users access the internet through laptops and desktops, 24% using mobile phones, and 3% using tablets.
The report also shows that Vietnamese people have a positive attitude towards the integration and development of modern technology and digital transformation. More than half of the population believes that new technology brings more opportunities than risks. Or 63% of the population prefer to handle digital tasks whenever possible. Regarding user data information in the period of global digital development, Vietnamese people also have a higher sense of privacy in personal information. 76% of the population believe that privacy and data protection are essential. As demonstrated by 45% of the population who often delete cookies from their internet browser to protect privacy, 38% of users use an ad blocker to prevent them from appearing.
Internet Use
With no signs of decline, the Internet is still thriving, with the number of users growing rapidly. Besides, social networks also increased with the number of users reaching more than ½ of the population.
In the total population of 96.02 million people, there are 64 million Internet users in Vietnam, accounting for 67% of the population and an increase of 28% compared to January 2017. There are currently 55 million active users on Social Media, accounting for 57% of the population and a 20% increase compared to January 2017.
94% of users use the Internet daily, and the average time spent on the Internet across all devices is 6 hours 52 minutes per day. Besides, we spend an average of 2 hours 37 minutes on social media activities.
About the Internet connections, according to data reported in January 2018, the average internet speed via fixed connection is 24.7 Mbps and via mobile is 20.33 Mbps. Internet access shows more often via smartphone than computer and table with the rate of 68%. Based on data, we can see that the Internet speed in mobile is no significant difference of the speed at fixed connections. Besides, people surveyed accessing the internet by their laptop & desktop still make up the majority which reaches 73% (an increase 23% compared to last year), 24% web traffic comes from mobile phones, with a decrease 31% compared to last year.
Social Media User
There are 55 million active social media users out of a total of 96 million population, accounting for 57% of the population. 50 million users are active on Social Media by mobile phone (accounting for 52% of the population and a 22% increase compared to January 2017). The most active social media platforms include: Facebook accounting for 61% of the population, the next is Youtube accounting for 51%, and the following is FB Messenger, Zalo, Google+, Instagram, Twitter…
More information about Facebook User
Every month in Vietnam, there are 55 million active Facebook users, the total number of users has increased by 20% compared to January 2017, and 91% of Facebook users accessing via mobile.
According to the report, the average reach of the post accounted for 17.6% of the total page's likes; the organic reach is only 6.7% of the total likes. For example, if your company's page has 10,000 likes, on average, only 670 people will see your company post on their news feed. And therefore, many fan pages have to run Facebook ads to increase their reach. There are 28.2% of total Fanpages running ads for their posts; paid reach accounts for 39.2% of total reach.
About Facebook Engagement: On average, a fan page post in Vietnam has 4.3% of people engaged compared to the total reach. For example, if your post shows up to 1000 people through their news feed, 43 people like, share or comment on that post. The data show that engagement is twice as high if a post is a video (9.56%) or an image (6.29%).
Up to June 2018, the total number of monthly Instagram users is 5.9 million. Instagram is the most attractive social platform after Facebook that accounts for 6% active users of the total population; 58% of active Instagram users are female, and 42% are male.
Mobile User
There are 70.03 million unique mobile users out of a total of 96 million population (a penetration of 73%). 146.5 million mobile connections, accounting for 153% of the total population.
Out of 146.5 million mobile connections, 34% have registered 3G & 4G. According to the report, 61% of the population uses mobile messenger, 60% watching video on mobile, 53% plays games, 30% using mobile banking and 50% uses mobile maps services.
E-commerce
The explosion of social networks such as Facebook, Instagram, Zalo, etc., has led to the development of e-commerce. The combination of e-commerce and social networking platforms has increased interaction between sellers and buyers. Looking at the data, 57% of people surveyed searched online for a product or services to buy, and 47% purchased products or services online. Currently, Vietnam has more than 35 million people purchasing consumer goods via e-commerce, increasing 6% compared to last year.
To read the entire Digital Report 2018 in Vietnam, please view the full report here. Please get in touch with us directly or by email for more details about the Vietnam market.