Table of contens
The Digital 2017: Vietnam, published by We Are Social & Hootsuite, provided a lot of helpful information about the digital transformation in Vietnam. Please read the article below to see more about the digital changes and how it's affected Vietnamese life.
Table of Contents
Global Overview
In 2017, the world population was 7.476 billion people, with an urban population rate of 54%, and more than 3.7 billion internet users worldwide (with a penetration rate of 59%). There are 2.789 billion active social media users; inside, there are 2.5549 billion active mobile social users.
The summary data show that there are 3.7 billion internet users and 2.7 billion social media users across a 7.4 billion global population. More than half of mobile device users are actively engaged in social media. Internet users around the world have a slight growth rate of about 10% compared to January 2016. Social network users tend to increase more than 21% per year, with a rate of 30 mobile device users joining the social network.
Vietnam Overview
Vietnam's total population was 94.93 million people in Jan 2017. There are 50.05 million people who have access to the internet. The number of active social media users in Vietnam is 46 million people, with a penetration rate of 53%. The growth of internet users in Vietnam has increased by 3 million users (with an increase of 6% in 2017 compared to Jan 2016). At the same time, the number of active social media users and mobile social users has increased rapidly over the past decade, with an increase of 31% in active social users and 41% in mobile social users. The data show that mobile phone users in Vietnam have increased rapidly and account for 98% of the adult population.
The behavior of Vietnamese people on the Internet is noticeable and has a lot of potentials. On average, Vietnamese people surveyed spend 6 hours and 53 minutes daily using the Internet via a PC or tablet, while accessing via a mobile phone for 2 hours and 33 minutes. The report also revealed an interesting point that the average daily television viewing time is just 1 hour and 26 minutes, lower than daily use of the Internet.
Users often use social networks to check email, social networks, search, listen to music, watch videos. The social networks used by many users are Facebook, Youtube, FB Messenger, G +, Zalo, Instagram, Twitter, Skype, Viber.
Internet Use
As of January 2017, Vietnam has 50.05 million Internet users, accounting for 53% of the population, increasing 6% compared to 2016. The number of Internet users is considered the highest globally, but the percentage of users is still high.
More than 60% of web traffic is coming from laptops and desktops, with a decrease of 16% compared to 2016. Besides, 35% of users use mobile phones, and 6% access the internet via tablets. On average, Vietnamese spend 6 hours and 53 minutes online using PC and Tablet, 2 hours 33 minutes if using mobile phones, and 2 hours 39 minutes on social networks.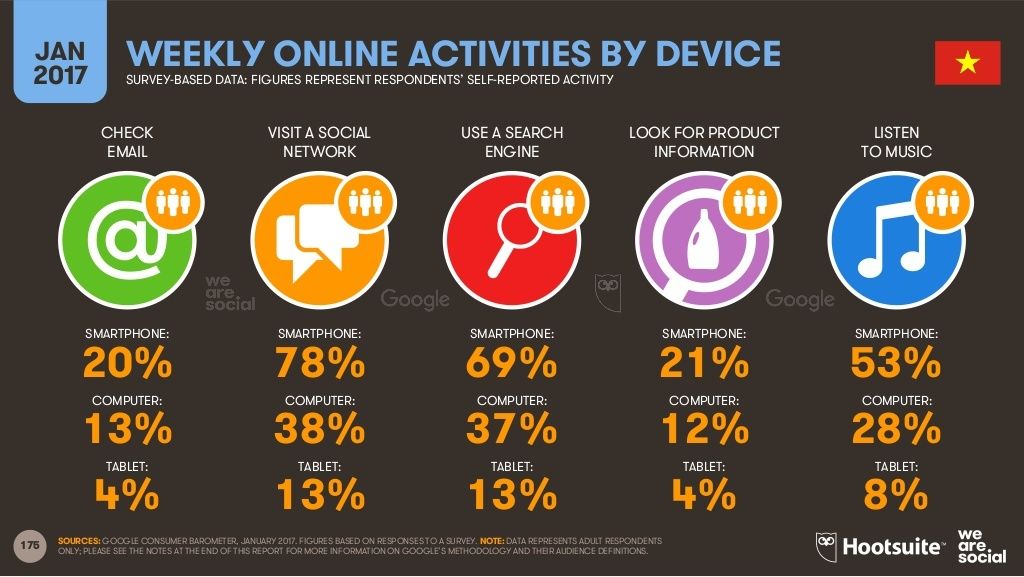 Vietnamese's weekly online activities are mainly checking email, visiting social networks, using the search engine, looking for product information, and listening to music. The social networks that have many users include Facebook, Youtube, FB Messenger, G +, Zalo, Instagram, Twitter, Skype, Viber.
Social Media Use
Social networks take an important role in Vietnamese online activities. On average, Vietnam has 46 million social network users, accounting for 48% of the population. 43% of the total population joined social networks by their mobile. Mobile connections are about 125 million subscriptions, accounting for 131% of the total population.
E-commerce
Finally, in the e-commerce report section, the percentage of users who regularly search for product information before buying is 48%, visiting retail sites is 43%, transacting products is 39%. The same 29 % of users transact products using laptops and mobile phones.
E-commerce profits in Vietnam are not high, and there is still a lot of potential for development in the future. 33.26 million people are purchasing via e-commerce with a market value of 1.8 billion USD compared to a country with a GDP of 215 billion USD.
Conclusion
In general, Vietnam stands out with the number of internet users, and it has increased over time. Vietnam is also regarded as among the top countries interacting with the Internet. E-commerce continues to thrive, but not commensurate with many users and the strength of the Internet economy in the Vietnamese market. Expectations and shortcomings that need to be addressed about Vietnamese e-commerce are still in the future.
To read the entire Digital Report 2017 in Vietnam, please view the full report here. Don't hesitate to contact us directly or by email for more details about the Vietnam market's information.